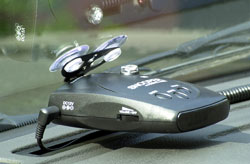 What Is It?

The Snooper S5R is a radar/laser detector, this is one of the higher end of detectors, expect to pay somewhere around £250
Installation
Just plug it in and go!
Ease Of Use

Simple. The volume also goes quite loud, which is handy when you've got the stereo on
Results
I was quite surprised with the performance of this detector. Its my first one though, and it's quite shocking how little fixed position cameras are actually turned on!
Easily gives enough warning, here are snoopers figures:
Gatso Cameras - Up to 300m

Radar guns - Up to 2 miles

Laser guns - Up to 2 miles

Mini Gatso - Up to 700m
Verdict
Although it does detect laser and radar very well it isn't any help from digital cameras. The only prevention against these is a GPS based detector. They only cost a bit more than I paid for the S5R, so I'd recommend saving a bit more and getting one of those

That said, this does detect radar/laser very well, it just isn't the complete solution to avoiding speeding fines that it once was